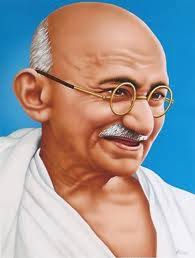 Mohandas Karamchand Gandhi was born on October 2, 1869 at Porbandar in Gujarat. His parents were Kaba Gandhi and Putli Bai.
As a student he was brilliant and from a very early age displayed and fostered virtues of honesty and truthfulness.
He completed his school and college education in Gujarat. Mohandas then went to England to study law and became a barrister. On completing his studies in law in 1893 he went to South Africa to practice there. It was here that his eyes were opened to the maltreatment of the Indians . His sentiments rose high and he felt he had to do something about it.
Gandhiji returned to India and started a movement to make the people aware that all must help to free India from British rule. He used non-violent methods and asked all Indians to practice Swadeshi – the use of country-made things. Gandhiji led the way by using only khadi clothes. He suffered a lot at the hands of the British rulers and was sent to Jail on a number of occasions .
The "Quit India" movement and the "Non-cooperation" movement played a great part in the freedom of India, which eventually dawned on August 15, 1947. On january 30, 1948 Gandhiji was shot dead by Nathuram Godse. In his last tragic moment he prayed for god"s help.